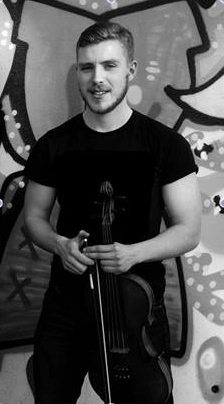 Andrew Sheeran
As a professional violinist, Andrew Sheeran performs with ensembles including Irish National Opera, National Symphony Orchestra and Ulster Orchestra. In 2020, he was awarded Music Network's Musician in Residence at Dun-Laoghaire Rathdown, on behalf of Ikigai, which involved a broadcast of his original composition 'Circuits' on RTE Lyric FM. Andrew is also a member of Glasshouse, performing regularly to acclaim at The Sugar Club, IMMA and at many Irish festivals including Galway Arts Festival, Forbidden Fruit and Altogether Now.
Having completed a BA (First Class Honours) in 2015 from Royal Irish Academy of Music, he was then awarded the RTE Lyric FM bursary to undertake a Masters at UL, studying with Katherine Hunka, concertmaster of the Irish Chamber Orchestra. During his studies he wrote a thesis on modern violin teaching methods, and was awarded the LRIAM Teaching Diploma (Hons). Since then he has continued his professional development, studying the principles of Kodaly and ColourStrings, and is a certified instructor of Paul Rolland String Pedagogy.
He is currently teaching at Royal Irish Academy of Music, Kilternan School of Music and Leeson Park.
He has participated in many masterclasses in Ireland and abroad, including at the NCH with renowned violinist Maxim Vengerov. Awards include DLR Emerging Artist Bursary, Music Capital Scheme and the Arts Council Agility. Our experience of KSM over the last ten years has been very positive. Four children, four instruments and four very different attitudes to practice, but all have been infected by Paul's boundless enthusiasm for the pure joy of music My daughter has been taking piano lessons in the Kilternan School of Music for 3 years. She loves her teacher and lessons. She has achieved extremely high results in her exams and loves playing in the mini concerts throughout the year. My family will be attending KSM for their 6th year this September. I have 3 children aged between 10 and 13. It was my daughter who brought us to music through violin by attending the pre instrumental class and she just loved it.
Let us Assist You Today
Got an Enquiry?