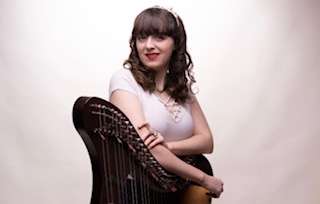 Emily Kelly
Emily is a piano, Irish Harp, singing and music theory teacher with performance experience from the age of 4 and 8 years of teaching experience. She is from a long line of teachers in her family. Emily has a fun loving approach to teaching music and her biggest teaching ambition is to inspire her students to not only love what music they play, but also to love their learning experience. She loves to engage with students of all ages from young children to adults and prides herself on her enthusiastic attitude and supportive teaching style.
Emily has a BA (Hons.) in Irish Music and Dance Studies from the University of Limerick and an AFA (1st class Hons.) in Musical Theatre Performance from the American College Dublin. Emily teaches many different styles of music including classical, Irish, jazz, pop, self-accompaniment etc. Whatever style you want, Emily will strive to accommodate.
She is a member of the award winning professional vocal ensemble, Classic Harmony, current title holders of the "Sounds from the Heart" original works competition (Krakow, Poland) as well as the semi professional choir, New Dublin Voices. As a professional harpist/singer, Emily has performed nationally and internationally (representing Ireland) at many receptions, concerts and other events. She has also performed and tutored with the Irish Memory Orchestra as 1st harpist and the Cross Border Orchestra. She will also be appearing on the film soundtrack for the new film Evil Dead Rise, a production recorded in RTÉ studios. Our experience of KSM over the last ten years has been very positive. Four children, four instruments and four very different attitudes to practice, but all have been infected by Paul's boundless enthusiasm for the pure joy of music My daughter has been taking piano lessons in the Kilternan School of Music for 3 years. She loves her teacher and lessons. She has achieved extremely high results in her exams and loves playing in the mini concerts throughout the year. My family will be attending KSM for their 6th year this September. I have 3 children aged between 10 and 13. It was my daughter who brought us to music through violin by attending the pre instrumental class and she just loved it.
Let us Assist You Today
Got an Enquiry?