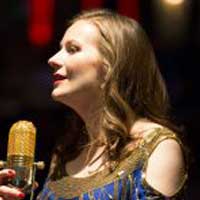 Joan Shields
Joan Shields is a professional singer and vocal coach with many years experience performing and teaching internationally. She graduated from DIT Conservatory with a First Degree Honours, Masters in Music Performance.
She has studied under some of Ireland's leading singing teachers at the Royal Irish Academy of Music, College of Dance, Newpark Contemporary Music Centre and DIT Conservatory. She has also studied in France with Jasmin Martorell (previously Professor of Singing at Conservatoire de Toulouse).
While she currently performs as a Jazz Singer she has also studied and continues to teach other styles such as Classical Singing and Musical Theatre Singing.
Joan is additionally an experienced teacher of musicianship and singing to young children. Her approach is based on the Kodaly method and she has studied with leading practitioners such as
Kata Kotvesi (Kodaly Institute, Hungary) and Lucinda Geoghegan (National Youth Choir, Scotland) as well as completing an apprenticeship in early years music teaching at Waltons School of Music, Dublin.
She currently teaches singing at Kilternan School of Music, Mount Temple Comprehensive School and Jill Anderson School of Speech and Drama as well as running her own very popular series of workshops and course for adults: 'Release Your Voice'.
She remains passionate about the human voice and its potential for expression and enjoys teaching singing to people of all ages and abilities. Her approach is based on giving people a solid healthy technical foundation while helping them find their authentic voice and confidence as singers. Our experience of KSM over the last ten years has been very positive. Four children, four instruments and four very different attitudes to practice, but all have been infected by Paul's boundless enthusiasm for the pure joy of music My daughter has been taking piano lessons in the Kilternan School of Music for 3 years. She loves her teacher and lessons. She has achieved extremely high results in her exams and loves playing in the mini concerts throughout the year. My family will be attending KSM for their 6th year this September. I have 3 children aged between 10 and 13. It was my daughter who brought us to music through violin by attending the pre instrumental class and she just loved it.
Let us Assist You Today
Got an Enquiry?