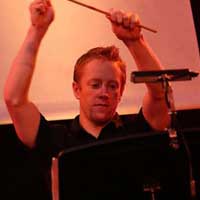 Danny Roe
A hard working individual with a wealth of experience in group projects and working as part of a team. I am the percussion teacher in the Knocklyon School of Music and St. Ultans School, Cherry Orchard. In the past I have worked as percussion teacher at the Herbert Lodge Arts Centre in the Curragh Kildare.
For several years I have been a visiting teacher at the St Agnes Community Music Project in Crumlin. For several years I have been balancing a career in music performance and education. This has meant playing with a large variety of groups including performing at musicals, as a solo classical performer, in orchestral situations and with small groups from percussion ensembles to brass and rock bands.
Alongside private teaching and individual teaching in schools, I have conducted many group percussion workshops for schools as well as for summer projects and festivals. I have taught students for Associate Board Exams, Leaving Certificate exams and at Diploma Level.
Having taught large and small groups and individuals from the age of 4 to adults of all ages, I feel comfortable teaching in all situations Our experience of KSM over the last ten years has been very positive. Four children, four instruments and four very different attitudes to practice, but all have been infected by Paul's boundless enthusiasm for the pure joy of music My daughter has been taking piano lessons in the Kilternan School of Music for 3 years. She loves her teacher and lessons. She has achieved extremely high results in her exams and loves playing in the mini concerts throughout the year. My family will be attending KSM for their 6th year this September. I have 3 children aged between 10 and 13. It was my daughter who brought us to music through violin by attending the pre instrumental class and she just loved it.
Let us assist you today
Got an Enquiry?