Guitar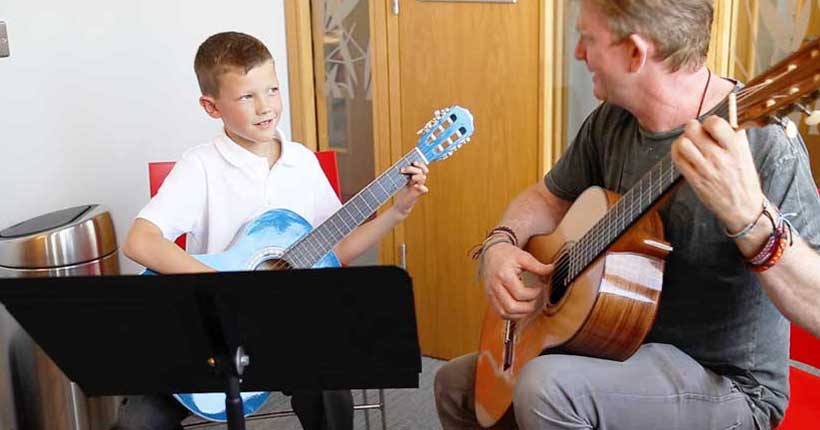 Guitar Lessons
Read on for a description of the various guitar lessons categories and programs we offer here at Kilternan School of Music. If you have any questions about any of the information here, or indeed, any other queries, please contact us here.
Classical Guitar Lessons (private)
With classical guitar the student learns to read music and plays a finger-style method. The guitar is a nylon stringed guitar specifically designed for this style of playing. When the student is ready they can take graded music exams.
Guitar Lessons – Electric Guitar (Private)
In this class the student will learn to play chords, songs and finger-style on electric guitar. They will also learn scales and solo methods for electric guitar. We also offer a graded exam program provided by the UK organisation, Rock School.
Guitar lessons – Chords / Songs Style (Private)
In this class the student will learn chords and songs and some finger-style guitar playing. They will read their guitar music through tablature rather than reading music.
Group Based Guitar Lessons
Junior Group Guitar 1st-3rd class (7-9yrs old)
This is a classical guitar group class with a max of 3 students. We place the students into their same school class type i.e 1st class, 2nd class , etc., as they have a better chance of progressing at the same rate. We monitor these classes closely as they may need to be split after a semester or year depending on the progress of each student.
The Total Guitar Madness Programme
This is a two year group guitar programme for students from 4th-6th class. We teach chords and songs and fingerstyle. It's a fun sociable way to learn an instrument. At the end of each year all the students get together and perform a major concert in a local venue. After the two years students can choose a private lesson in the guitar style that interests them most.
About Our Guitar Classes
We teach guitar from Monday through to Saturday. We start our classes from 1pm until 9pm in the evening and 9am on Saturdays.
Private classes are 30 minutes and cost is €445 per semester (17 weeks, 1/2 year) Stage payment plans are available.
All Group classes are €235 per semester (17 weeks, 1/2 year)
Our Classical Guitar Teachers are: