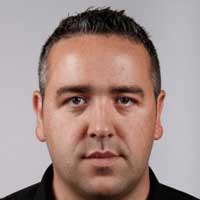 Paul Frost
Paul Frost graduated with a BMusHons from the Cork School of Music and with
a PGDip from The Royal Academy of Music, London. Primarily a bass trombonist, Frost also free-lances on trombone and guitar.
He has played with RTE National Symphony and RTE Concert Orchestras, Irish Film Orchestra, Wexford Opera, Cyprus State Orchestra, Royal Philharmonic Orchestra, Sid Lawrence Orchestra, 'Back to Basie' Big Band, Dublin City Big Band, house band of 'Tonight with Craig Doyle Show', National Youth Jazz Orchestra of GB, West End Shows and Uk tours, Sharon Shannon, The 4Tops, The Temptations, Josh Ritter, Bill Bailey 'Guide to the Orchestra', Altamonte Orchestra, St Florian,
Austria. He has toured with Glen Hansard and is in The House of Horns.
He had been involved in Many recording session work including Celtic Thunder, Celtic Woman, films, musicals and band albums. Frost has done arrangements for Dublin City Jazz Orchestra, RTE Concert Orchestra, Cork Pops Orchestra, Superbrass and many bands.
He has recently played the world premier of 'Heartbeat of Home' and toured North America and China with the show. Our experience of KSM over the last ten years has been very positive. Four children, four instruments and four very different attitudes to practice, but all have been infected by Paul's boundless enthusiasm for the pure joy of music My daughter has been taking piano lessons in the Kilternan School of Music for 3 years. She loves her teacher and lessons. She has achieved extremely high results in her exams and loves playing in the mini concerts throughout the year. My family will be attending KSM for their 6th year this September. I have 3 children aged between 10 and 13. It was my daughter who brought us to music through violin by attending the pre instrumental class and she just loved it.
Let us Assist You Today
Got an Enquiry?