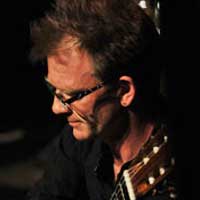 Paul Mahon
Paul Mahon is a guitar teacher and owner/director of Kilternan School of Music. His early career took him to the more technical side of the music industry where he worked in studios such as Windmill Lane, Air Studios and Peter Gabriel's Real World Studios in the UK.
He ran his own recording studio design and consultancy business for twelve years here in Ireland and left it to study his passion, classical guitar. He teaches in a number of schools in the area and at Kilternan School of Music, which he formed in 2004. Paul has an LTCL from Trinity Guildhall London.
He has a keen interest in music for young children and attended training courses at the Kodály society of Ireland and has spent some time at the Zoltan Kodaly Pedagogicial Institute in Keskemet, Hungary, studying Methodology, Solfege, Kodaly concept and observation at the Kodaly Primary & secondary schools.
Paul teaches guitar and music theory at Kilternan School of Music and when he has the time he also runs the music school. Our experience of KSM over the last ten years has been very positive. Four children, four instruments and four very different attitudes to practice, but all have been infected by Paul's boundless enthusiasm for the pure joy of music My daughter has been taking piano lessons in the Kilternan School of Music for 3 years. She loves her teacher and lessons. She has achieved extremely high results in her exams and loves playing in the mini concerts throughout the year. My family will be attending KSM for their 6th year this September. I have 3 children aged between 10 and 13. It was my daughter who brought us to music through violin by attending the pre instrumental class and she just loved it.