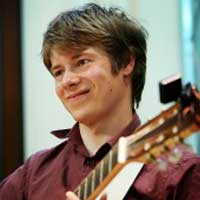 Peter Moc
Peter is an educator, guitarist and composer coming from the Czech Rep. He studied classical guitar and obtained his second university degree from Jazz performance at Newpark Music Centre in relation with world-wide recognized Berklee College of music in Boston.
Peter performs in Ireland, England, Denmark and Czech Rep. with his jazz projects and Big Bands but his blues and rock background has allowed him to work with popular artists from The Commitments, JJ72 etc.
Peter has been teaching guitar(classical, jazz, popular music, rock, blues, funk), composition, music theory(classical and contemporary music) and arranging since 2008. Peter's students improve their instrumental skills, develop better knowledge of theory, get into art of improvisation in all styles and discover new personal musical directions.
You can also find out more at:  www.petermoc.com Our experience of KSM over the last ten years has been very positive. Four children, four instruments and four very different attitudes to practice, but all have been infected by Paul's boundless enthusiasm for the pure joy of music My daughter has been taking piano lessons in the Kilternan School of Music for 3 years. She loves her teacher and lessons. She has achieved extremely high results in her exams and loves playing in the mini concerts throughout the year. My family will be attending KSM for their 6th year this September. I have 3 children aged between 10 and 13. It was my daughter who brought us to music through violin by attending the pre instrumental class and she just loved it.
Let us Assist You Today
Got an Enquiry?